Designed with the discerning astrophotographer in mind
Sky-Watcher USA's top-of-the-line Esprit refractors deliver the kind of imaging performance one would expect from telescopes costing thousands of dollars more.
With their three-element air spaced objective lens design, false color is completely eliminated, yielding exceptional contrast and sharpness. The included 2-element field corrector guarantees a flat field across the entire imaging plane. The Sky-Watcher exclusive Helinear Track focusing system provides a smooth, rock-solid focuser with zero image shift.
All Sky-Watcher USA Esprit refractors come with a 9 x 50 right angle finderscope, 2-inch Star diagonal, 2-element field flattener, camera adapter, D-style dovetail (V-style on the 80mm model) and padded case. Everything you need to get out under the stars.
World-Class Optics
Chromatic aberrations and field curvature are things of the past with the Sky-Watcher Esprit series of super APO triplet refractors.
Whether you're photographing with a CCD or a full-frame DSLR, Esprits produce crystal clear images that rival the performance of other refractors costing thousands of dollars more. The Esprit series features extra-large image circles, providing astrophotographers with vignette-free images on large full-frame sensors.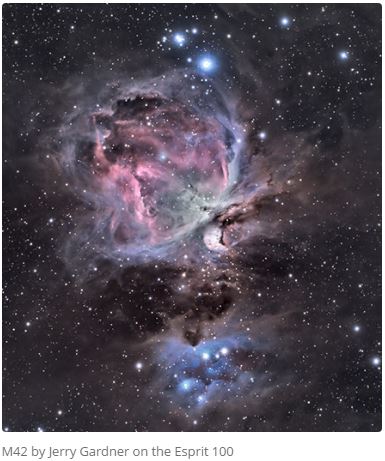 As you explore beyond the tube's white glossy finish, it becomes apparent that the Esprit's optical components are designed to court glass snobs near and far. The Esprit series is built around a fast focal length, air-spaced triplet objective, and a proprietary combination of matched lenses, designed to deliver optimum visual and photographic performance. Sky-Watcher's signature Metallic High-Transmission Coatings™ (MHTC™) – utilizing magnesium fluoride and zirconium oxide – is able to produce a transmission rate that challenges any other refractor on the market. All objective lenses are air-spaced, cooling to an ambient temperature faster than optical tubes using oil-spaced optics. Our optical tubes are fully baffled to eliminate any stray light.
Solid and Precise Focusing
Whether you're using the Esprit for imaging or visual use, Sky-Watcher's proprietary 2.7" and 3.4" dual-speed focuser provides precise 10:1 rack-and-pinion focusing with zero image shift. The focusers are rotatable, allowing astrophotographers to easily frame their image. The large aperture focuser includes millimeter markings to assist with quick and accurate focusing.
Esprit 150mm ED Triplet APO Refractor
150 mm apochromatic 3-element refractor
1050 mm (f/7)
Fully multi-coated
Thread-on field flattener
3.0″ focuser w/micro focus
2″ Diagonal with dielectric coatings
9×50 RA erect-image finderscope
Canon camera adapter
Tube rings with CGE style dovetail bar
Aluminum foam lined case
43mm image circle
OTA Weight: 32lbs.
OTA Length: 40.5″ Extended and 36.875″ Retracted
Back focus: 100mm